Engineering: Getting Started
Welcome
This guide is designed to help students do research in engineering and engineering technology.
Use the tabs to navigate through pages of all related engineering guides:
Ultrafast Engineering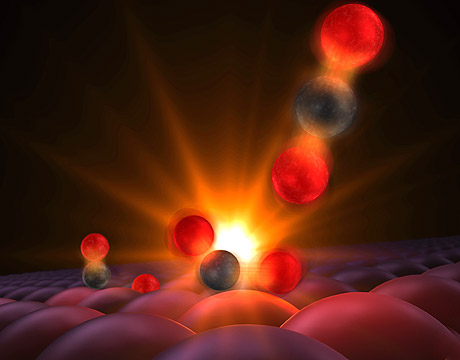 An illustration of atoms forming a tentative bond. Image: SLAC National Accelerator Laboratory
The fast-paced field of micro/nanofabrication is moving even more rapidly than you might think. How fast? Femtosecond fast – as in one quadrillionth of a second. That's the time scale of the ultrafast laser systems used to measure and manipulate the molecular building blocks of today's smaller, smarter machines.
Ultrafast laser systems play multiple roles in demanding applications like MEMS/NEMS engineering, biomedicine, and battery research. The controlled, high-power femtosecond pulses of energy they produce is useful in high-precision materials processing tasks such as drilling, soldering, cutting, and ablating. And as radiation sources for spectroscopic or microscopic studies of chemical reactions, they elucidate the complex atomic and molecular processes as they occur. [read more]
Chat or Text a Librarian for Help
Need to talk to a librarian? Use our chat system. Click the button to open the chat window.
Chat with a Librarian!